Your Denver Eating and Drinking Guide –for Every Budget
Your Denver Eating and Drinking Guide –for Every Budget
June 7, 2019 | Seen and Be Seen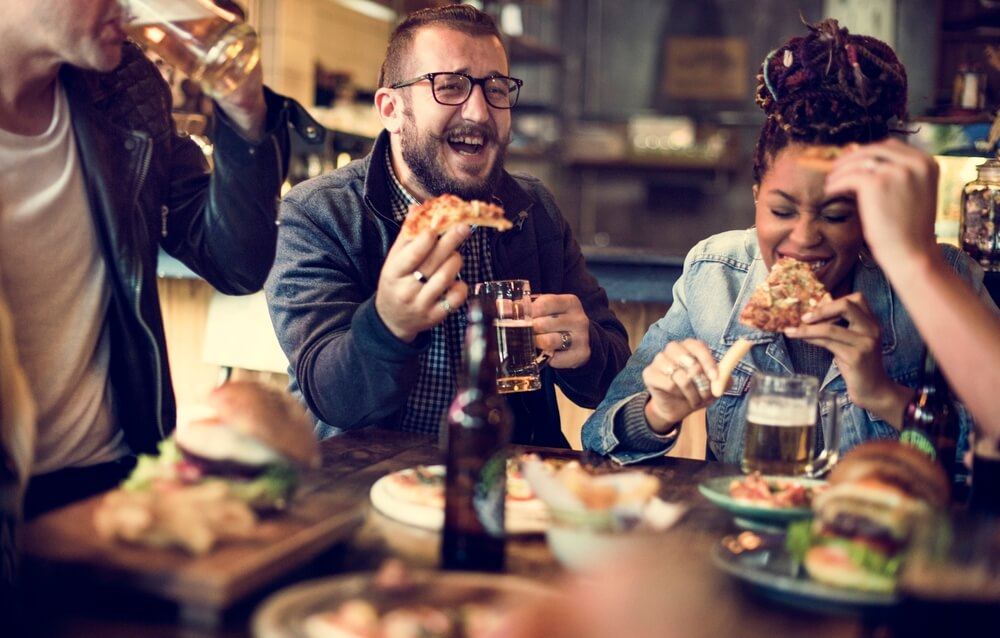 We love checking out the latest eateries and watering holes in Denver, and we thought we'd share some of our favorites for your next visit to the mile-high city! We've split the list between places you can get to by walking downtown and places you can get to with a quick car or a light rail trip, and included digs for all kinds of budgets. Either way, you'll be able to stuff your face with the finest foods.
If you're only interested in the drinking portion of this post, go straight to the bottom.
Enjoy!
Restaurants for Those Staying in Downtown Denver
Ballin' on a Budget
This place might be based out of Wisconsin, but over the past year they've become a Denver staple. The pizza comes by the (massive) slice at just $4 a pop (or by the pie if you're sharing). You'll find Ian's Pizza packed on Friday and Saturday nights, satisfying the cravings of club goers and night owls alike, but even if you just need a quick lunch on a Wednesday, you can't go wrong with Ian's.
Get the macaroni and cheese pizza, a slice of their monthly special, and a Ziploc baggy packed with puppy chow.
Backcountry serves insanely decadent sandwiches that'll fuel any Denver evening on the town. Great bread plus unique combinations has our sandwich-expert friends claiming it's the best sandwich shop in Denver. Everything's under $10 and they have breakfast too.
Get the Pilgrim (roasted turkey, Muenster, seasoned stuffing, cranberry chutney, romaine lettuce, and mayo). Or if you're in a healthy mood, get the Sherpa (grilled eggplant, asiago, sweet roasted red peppers, tomato, romaine lettuce, and garlic mayo)
Right in lower downtown, this homegrown gourmet burger joint boasts some of the best and most creative burgers in Colorado (or the nation for that matter). From the Cubano burger that towers at 8 inches tall, to the award-winning Sin City that comes topped with fried cheese and candied bacon (the bacon is to die for), you'll find something to tell stories about.
Be sure to try their adult milkshakes for a boozy ice cream delight. While not cheap (around $13.00 a plate), prices are very reasonable for the overflow of food that you get.
Throwin Stacks
You can see into ChoLon's kitchen right from 16th street (clearly they are an open book when it comes to food prep.)
Their sweet onion dumplings have to be experienced to understand--you place them whole, directly in your mouth and the contained soup and dumpling combo just melts. The spiced doughnuts and coffee ice cream dessert is like eating a literal cloud. If it's a Thurs-Saturday evening, get a reservation and sit back. You will be blown away.
Vesta is a popular restaurant with locals, and for good reason. They specializes in hearty meat dishes with creative flavors, however, what really sets them apart are the dipping sauces they offer. So many sauces.
Aolis, emulsions, remoulade, marmalades. You'll find a perfect pairing of sauces to go with each plate. On Monday nights they have a 3-course dinner for only $60. If you just want to experience the sauces, stop by for happy hour; you can grab a sauce sampler for less than $10.
Restaurants Just Outside of Denver
Taking the light rail is easy. Here's the schedule.
Ballin' on a Budget
This Pizzeria sources most of its ingredients from local farms (excluding the pizza flour that comes from a town in Italy). Patrons rave about the excellent crust, down-to-earth goodness of flavor, and the rustic setting (it's an old house turned pizza parlor, complete with all the twinkle lights you could ask for).
Our recommendation: Get there before 7pm and enjoy a $2 craft beer. Then order the Wild Mushroom pizza; pesto, mushrooms, shallots, and caramelized onions.
You can get to this stop by car or by light rail, just get off at the Louisiana stop and walk to South Pearl Street.
The Denver Biscuit Co. serves hearty southern breakfast dishes based, of course, on buttery flakey biscuits. They are only open for breakfast and lunch so make sure you plan accordingly. Their two locations reside just outside the Denver downtown; there is one on South Broadway and another on Colfax.
Throwin Stacks
This Japanese restaurant is the best you'll find in Denver; they fly their fish in everyday to guarantee freshness. The building itself is a two-story, elegant, jungle-inspired oasis. If you have the option, sit upstairs. Get the Volcano roll (beware it's decadent) and the Crispy Tuna.
Izakaya is just a quick drive south of downtown Denver, and like Kaos Pizzeria can be reached by the Louisiana St. light rail station.
The Second Home Kitchen + Bar provides an upscale yet casual atmosphere and a wide-ranging fair of fresh food from breakfast to dinner. If you get the chance, be sure to try the fried chicken & waffles with Stranahan's whiskey syrup. They also have a good selection of vegetarian eats.
Second Home Kitchen is inside the JW Marriott in Cherry Creek, a 15-minute drive from downtown Denver. If you're in a shopping mood, get there early and stroll around.
Drinking in Denver
If you love wine, this is the place to go. Infinite sources most of their grapes from the western slope of Colorado. They've perfected the urban winery and have an inviting taproom. They also do tours for $25; you get ~5 tastes of wine (good pours). From downtown, it's quite the walk, but you'll pass by local art galleries and startups in the RiNo neighborhood.
These guys do tours for just $11, which is the perfect thing to do before dinner or a night out. If you're staying downtown, get on the light rail southbound and get off at Alameda station.
Beer
Any brewery in Denver. Really! Denver has a huge selection of quality breweries, we can't choose a favorite.
If you want to sit outside, choose Denver Beer Co or Ratio. If you want to experience cider beers only, check out Stem. If you want to see one of the largest craft breweries in Denver, go to Great Divide.
Check all the others out here.
An underground speakeasy in the heart of Larimer Square, you'll need to walk through a bookshelf in order to get inside. Once there, the atmosphere is dark and dungeony (in the best way). When ordering, simply select a liquor and mention a flavor you're in the mood for. Your highly trained bartender will make you a custom cocktail. Definitely worth a visit or three.
There are honestly so many food options in Denver, so don't stick to this list only. Get out there and explore.
If you are looking for a hotel, Evil Tickets has connections that can help you get killer deals on rooms. See what deals we have available. If you are planning to be in Denver for an event, check our concert ticket offerings; we work hard to keep prices affordable even for sold-out shows.