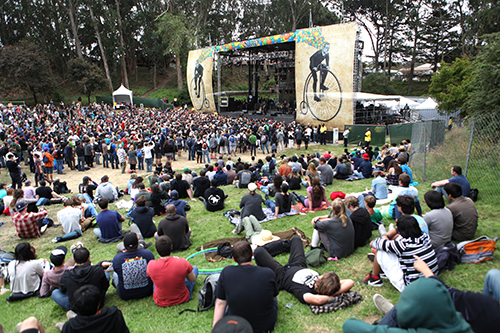 Outside Lands
Outside Lands 2023, a must see for music lovers near the Bay Area in August. Three days at Golden Gate Park in San Francisco, CA, August 11 - 13.
events not found
Outside Lands Music Festival Tickets
About Outside Lands
The Outside Lands Music Festival first debuted in San Francisco in 2008, bringing a fresh energy to the city's festival scene. Over the years, it has become one of North America's most beloved outdoor events, attracting tens of thousands of music lovers to Golden Gate Park each year. With its diverse lineup of top-tier musicians, interactive art installations, food and drink vendors, and more, it's no wonder that the festival has become a staple of the Bay Area's cultural landscape. From its inaugural event featuring Radiohead, to its recent lineup of big-name artists like Pearl Jam, Dave Matthews Band, Incubus, and the Black Eyed Peas, the festival continues to offer an unforgettable experience to all who attend. So don't miss your chance to join in the fun - get your Outside Lands Music Festival tickets at Evil Tickets today!
Outside Lands FAQs:
Is the Outside Lands Music Festival Happening This Year?
You know it! The 2023 Outside Lands dates were just announced and OSL 2023 will be August 11th - 13th this year. Tickets usually go on sale at the end of June but you can keep an eye on EvilTickets.com for presale deals to guarantee your spot this year.
How Long Is the Outside Lands Music Festival?
OSL is typically three days long and run from a Friday through Sunday, with performances starting in the late morning each day and lasting through the night each evening.
Who Are the Headliners Performing at the Outside Lands This Year?
The 2023 OSL headliners have not yet been announced but The 2022 headliners included Green Day, Post Malone and SZA. Rumors are starting to swirl about who we'll see this year but we'll have all of available here once they've been announced.
How was Outside Lands Last Year?
The 14th edition of Outside Lands music festival took place at Golden Gate Park on Sunday, August 7th, 2022, bringing back the festival's traditional summer spot in the Bay Area and its lively, carefree vibe prior to the pandemic.
With an estimated 220,000 attendees over its three-day run, the festival showcased more than 90 artists across six stages, including headliners Green Day, Post Malone, and SZA. In addition to the impressive musical lineup, Outside Lands also presented its largest selection of local food and wine to date.
At the close of the festival, producer Another Planet Entertainment confirmed that Outside Lands will return on August 11th to 13th, 2023.
The Complete OSL 2023 Lineup
Not yet announced...
For the complete Outside Lands 2023 lineup by day and dates visit the official OSL website.
Festival Details & The Inside Scoop

Where Is Outside Lands 2023: Golden Gate Park in San Francisco, California
When Is Outside Lands? August 11 - 13, 2023
Outside Lands 2023 Headliners: Haven't been announced yet but we should know soon!
Where to stay: For our favorite hotels in San Francisco near Golden Gate Park we recommend the Rodeway Inn and Suites, only 0.2 miles from the venue and rooms starting at $366 / night, as well as the SeaScape Inn only 0.4 miles from the venue and rooms starting at $296 / night
Where to eat: Art's Cafe is a famous SF diner within walking distance of Golden Gate Park. Open 7am to 3pm everyday this is a great spot to grab some breakfast before cruising to the park for a show. If you're a big fan of good Mexican food check out Nopalito the sustainable organic Mexican kitchen. Also within a stones throw of the OSL festival grounds and open late stop by San Tung for the cities best friend chicken wings. Get the full official eatery list close to the festival grounds at Serious Eats.
While you're in town: Check out the famous Golden Gate Bridge and Fisherman's Worf.
Subreddit: /r/outsidelands/

Buy Outside Lands 2023 tickets