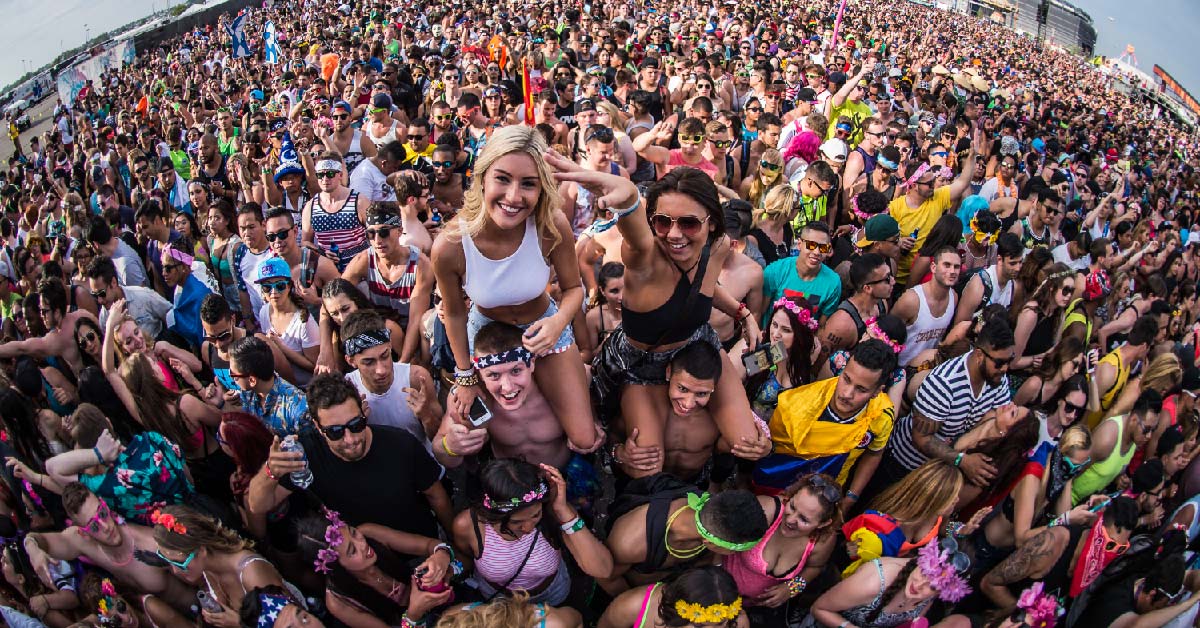 Electric Daisy Carnival
Electric Daisy Carnival 2019. The global phenomenon and flagship location for EDC in Las Vegas, NV. Three full days at Las Vegas Motor Speedway, Las Vegas, NV May 17 - 19
Dates
Event

Fri

Nov. 10

2023 | 11:59AM

Fri

May. 17

2024 | 4:59PM

Las Vegas Motor Speedway- Las Vegas, NV

Tickets

Fri

May. 17

2024 | 5:00PM

Las Vegas Motor Speedway- Las Vegas, NV

Tickets

Sat

May. 18

2024 | 5:00PM

Las Vegas Motor Speedway- Las Vegas, NV

Tickets

Sun

May. 19

2024 | 5:00PM

Las Vegas Motor Speedway- Las Vegas, NV

Tickets
Everything you need to know for EDC Vegas 2019
Attend Electric Daisy Carnival 2019, aka EDC Vegas, at Las Vegas Motor Speedway!
This iconic summer festival bring together the glitter and glamour of Las Vegas with the sound and spectacle of Electric Daisy Carnival at the EDC flagship location. EDC started as a rave in a warehouse in Los Angeles, then moved to an open field Pacoima and eventually moved between a number of venues in LA like the Memorial Coliseum and Exposition Park and moved around from year to year before eventually moving their flagship location to Las Vegas Motor Speedway in 2011. Today EDC operates in cities around the world in countries like the UK, Brazil, Japan, India, Puerto Rico and Mexico. to Founded in 1999 by Russell Faibisch and Alex Omes and is named after the 1997 Depeche Mode album, Ultra. EDC has become a world phenomenon designed to gather people around music and art in a place that welcomes everyone.
Evil Tickets has been selling EDC tickets since our creation in 2017 and we have been a top seller ever year for sold out tickets. Shop the Evil Tickets Marketplace for the best deals on EDC Las Vegas 2019 tickets at Las Vegas Motor Speedway.
Electric Daisy Carnival Vegas 2019 Ticket Prices
How Much Are EDC Las Vegas Tickets?
Currently, the official Electric Daisy Carnival ticket site is sold out for standard GA tickets but still have GA+ starting at $449 and VIP starting at $779. Evil Tickets has the cheapest 3-day GA passes to EDC Vegas found anywhere online starting at $389 with the lowest fees anywhere online. Single day passes are not sold for EDC Vegas.
How To Get Cheap Electric Daisy Carnival Tickets
Now that the festival is only days away and the primary ticket markets have sold out on standard GA passes, the best way to get the cheapest tickets to Electric Daisy Carnival 2019 is by shopping secondary ticket marketplaces like Evil Tickets. But unlike most other major marketplaces, Evil Tickets does not add additional markup to pay for marketing costs and we pass those savings along to you as the consumer to provide the absolute cheapest tickets to EDC Vegas 2019 available.
Electric Daisy Carnival Vegas 2019 Lineup
The 2019 Electric Daisy Carnival lineup has been announced. Here are a few of the EDC Vegas 2019 Headliners for each day:
Friday, March 29th - Bill Nye (Opening Ceremony), Dack Janiels, David Guette, Deadmau5, Excision, MC Dino, Ganja White Night, The Glitch Mob, La La Land, Joyride, Madgrrl, Malaa, SKREAM B2B Rusko, Zeke Beats B2B Champange Drip and Party Favor
Saturday, March 30th - A$AP Rocky, Artbat, Atlas B2B Rhett, Barley Alive B2B Phaseone, Black Tiger Sex Machine, Consuls B2B Nightstalker, Don Diablo, Infected Mushroom, JSTJR, Kaskade, Lucati, Martin Garrix, Matrix and Future Bound B2B Cyantific, Mau5trap, Monstergetdown B2B Rhyno, Nero (DJ Set), NGHTMRE, RL Grime, Tiesto, Whipped Cream, Zaxx and ZHU
Sunday, March 31st - Adrenalize, Adventure Club, Armin Van Buren, Badklaat, Benda, Bonnie X Clyde, Boombox Cartel, Brennan Heart, Camelphat, Cash Cash, Cosmic Gate, Dipole, Dimension B2B Culture Shock, Gentlemens Club, Illenium (DJ Set), San Holo, Phiso B2b Definitive, Snakeship, Space Corps, Steve Aoki, Tchami x Malaa, Warface and Zeds Dead
For the complete lineup including stage times and dates visit https://lasvegas.electricdaisycarnival.com/lineup/
Festival Details & The Inside Scoop

Where Is Electric Daisy Carnival 2019: The Las Vegas Motor Speedway, Las Vegas, NV.
When Is Electric Daisy Carnival? May 17th, 18th and 19th, 2019.
How's the weather? It's Vegas BABY! Expect lots of hotness, and we're not just talking about all of the beautiful people out there, temperatures are expected to be between 74 and 85 during the day and overnight lows down between 54 and 57. So basically perfect festival weather, pack accordingly. Keep an eye on the extended forecast before you leave town right here.
Subreddit: /r/electricdaisycarnival
Median price for sold festival passes in 2018: $445
Buy Electric Daisy Carnival 2019 tickets