TOP 5 MUSIC VENUES IN THE COUNTRY
TOP 5 MUSIC VENUES IN THE COUNTRY
April 28, 2022 | Where To Stay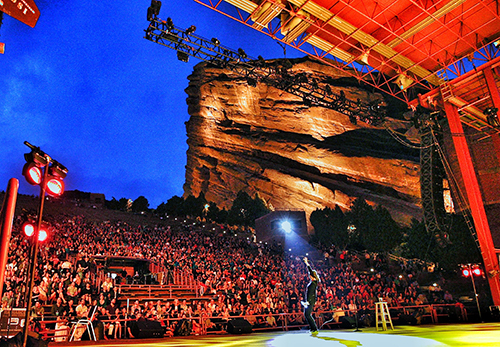 Whether it's fest season or not, now is always a good time to see live music. Below are our top 5 picks for some of the best places in the country to see your favorite artists and soon-to-be-famous music legends.
Red Rocks Amphitheater
Located right here in Denver's backyard, Red Rocks is the 8th wonder of the world. This venue is situated right in the middle of nature, and the only additions man has made are the stage, lights, speakers, and of course, the food and booze. The literal red rocks make this place an absolute beauty and a wonderful trip for day hiking, Yoga on the Rocks, and incredible views of Denver. The best of the best have played here and even recorded live albums. Some of the many big names include Neil Young, U2, Dave Matthews, Jimi Hendrix, The Beatles, and The Grateful Dead.
Madison Square Garden
New York City is the mecca for entertainment and infamous performers, and Madison Square Garden is where it all takes place. If you were to ask someone about the Garden, chances are they will know what you are talking about. There is so much history in that stadium, besides music, that just by being there you are a part of something bigger. What exactly is it that you are a part of? Well, what's the meaning of life? The answer gets lost in the cosmos.
The Ryman Auditorium
Nashville is the Country music capital of the world, and the Ryman is the brainchild behind it. It was the former home to the Grand Ole Opry and now hosts tours and visits when there aren't big names gracing the stages. Take a visit here and feel a piece of American culture.
The Gorge Amphitheater
Home to the Sasquatch Festival, the Gorge is an iconic and beautiful place that literally sits on a cliff in Washington. The views of the Columbia River are as breathtaking as the musical sounds that are generated on stage. Camping is allowed exclusively for concert folk so you can be fully immersed in the beauty of the landscape.
The Hollywood Bowl
Located walking distance from popular Hollywood touristy attractions, the Bowl is a classic outdoor venue that's a big hit for Angelenos and visitors alike. They even sell picnic packages there so you can make it a very romantic evening with good food and wine while listening to some world-renowned artists.