New York City Broadway & Theater Shows
New York City Broadway & Theater Shows
April 28, 2017 | New York City Entertainment & Event Guide
So you're bound for a New York City Broadway or theater show during your trip to the Big Apple! Fancy you.
Here's everything you need to know.
Getting There
The Theater District is in Midtown Manhattan - smack dab in the middle of the island! Since this popular district becomes congested with street traffic during show times (and let's face it, every other hour of the day), it's better to travel underground via subway.
Hop on any N,Q,R,W,1,2,3 or 7 trains headed in the proper direction. The easiest stop near the theater district is at 42nd street and Broadway.
HINT: If you're coming from a street with a number higher than 43, grab the downtown train. If you're coming from a street with a number lower than 41, grab the uptown train.
Before the Show
Grab a Photo. The best photo spot can be found at 47th and 7th. Climb the red stairs in the center of the plaza and get a great photo with all the screens, billboards and hoards of people; the vantage point really encapsulates the "City That Never Sleeps".
Grab a Drink. Check out McGees Irish Pub on 55th between Broadway and 8th. This bar is just around the corner from The Ed Sullivan Theater, home to "Late Night with Stephen Colbert." Before Colbert took over, McGees was a favorite after-work joint for Letterman staffers to grab a beer. Plus, according to Hollywood lore, the hit television series "How I Met Your Mother" was conceived and written in a McGee's booth. Oh, and they have a great happy hour. Need I say more?
Grab a Bite. Check out Lillie's Victorian Establishment at 49th and 8th, a beautiful and charming spot for lunch or dinner.
Find the Perfect Broadway Show
Seeing a show on Broadway is an incredible experience. The actors, singers, dancers, musicians have trained for years to entertain you—so you truly cannot make a bad selection. Here's a cheat sheet for what to see:
For those with deep pockets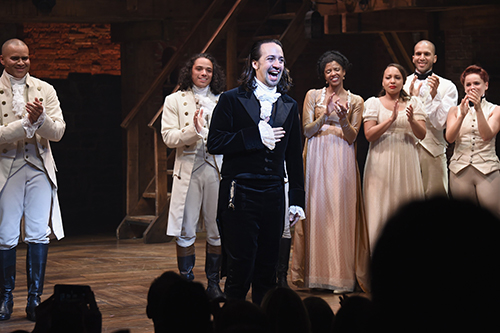 Hamilton
Lin-Manuel Miranda is a true genius and revolutionary. Though he isn't playing the lead role any…
tickets
For those who want to be star struck
The Great Comet of 1812
Waitress
Hello Dolly
For those who want to feel empowered
For those who want to see a classic
Cats
Wicked
Phantom of the Opera
Chicago

Be sure to get your fill of food, drinks, and entertainment while in the theater district.
For deals on New York city ticketing and hotels, check out EvilTickets. You'll save time and money – which means you can spend more time and money at McGee's happy hour.